A few weeks ago I was making the rounds, you know, visiting all my fave homies when I clicked on Cat's blog,
Brideblu
- and then it opened - and then I was all, "this is not Cat's blog" and then I read the title and was all, "this IS cat's blog" and after a swift deduction (as swift people like me do) was made, I realized she had a total beautiful, perfect-for-her blog makeover! And then I had to explore to find who the mastermind behind this magic was and that's when I found Mervi from Design by Wushka! And I liked her names! And her designs! And her! And exclamation marks!
And what I'm saying is...if you want that spring blog makeover, maybe she's your girl?
Either way, enjoy getting to know her and the secret ingredients for a night at the desk of a charming blog designer:
"Wuskha" is super fun to say, is there are a story behind it?
Hih! Isn't it! As teenagers you come up with all sorts of silly things... Well, me and my friend loved mimicking different languages and Russian was one of our favorites. It was just so fun to pronounce and it has cool vibe to it. So we decided to come up with "Russian" nicknames for ourselves - mine was Merwushka. And later it was abbreviated to Wushka. Some of my friends still call me by that name. Hence Wushka :)
Is web design your full time job? If not, what is your day gig and how did you get in to design?
No, I actually have an international business degree and I work as a project manager in a Helsinki based ad agency. But I've always been into design and all things visual, for that matter. So on my free time, I've taken a couple of night courses to study the basics. But I've learned a lot just by doing and trying out things, and it's slowly picked up from there.
(
Brideblu
makeover)
Do you have favorite music to listen to, drinks to drink or any other rituals as you work on blog designs?
Yes! I have my personal butler (aka my boyfriend) who always brings me tea and biscuits when I'm working. My favorite tea at the moment is called "Rainy days joy", a black tea infused with fruit and berries. I also like listening to Regina Spektor. She's such a stunning artist and there's something about her songs that put me in that happy place. That's the recipe for a night at my drawing board.
What are 5 things that make you really happy?
1. Sunshine! It was a long COLD winter here in Finland, so the light and warmth feels like the most perfect treat.

2. Our home. We bought our own apartment last summer and it makes me so happy that we have our very own nest.

3. I get to do something creative every day. (psst, I've just finished a new blog design for

Bohemian Backbone

4. The support and encouragement I've received from numerous people, in and outside the blogging community, to keep doing what I'm doing.


5. our little pup Salli makes me smile every day. She's such a sweetheart - always
Thanks Mervi!!
And if you'd like, you can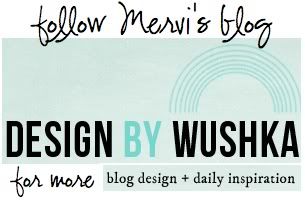 You can find her on
Twitter
and
Pinterest
too =)
(she's also one of the two ladies behind
My Best Friend Jules
)
Update!! To celebrate the opening of design by wushka, @wushka is giving away a free blog template! click here to enter http://bit.ly/lkfTjT